"Deliver The Most Loving Eulogy That Touches Hearts"

Heartfelt Eulogies

Words that Last a Lifetime
and Beyond

Dear friend,
I am sorry for your loss. Please accept my heartfelt sympathies. Coping with grief is a great challenge and it is also most challenging when you are asked to deliver a eulogy. If you are like so many of us, you are probably feeling uncomfortable and nervous. Right now writing a eulogy may seem like a daunting task. However, please note that writing a eulogy is one of the most rewarding and healing experiences you may have in your life. And, with the right guidance, it can be simple too..
I have been helping people say the final words for 12 years and now I have put together a package that is certain to help you out. You can now easily write eulogies that touch hearts and convey your deep sympathies without all the worries. My package helps you create eulogies based on templates and guidelines I have helped people with.
Now, you can say the most memorable words and provide comfort to the family and friends by touching their hearts.
Easily Create and Deliver Loving Eulogies Based on these 45 Proven, Heart Touching Eulogy Templates

Craft The Most Memorable Eulogy Using Loving Quotes and Poems on Death Included in

Heartfelt Eulogies

Forget About Spending Hours Trying to Write a Eulogy - Use eulogy templates provided in

Heartfelt Eulogies

and spend your time with the family who need you the most

Give the Greatest Gift to The Family by Speaking the Correct and Kind Words About the Dead

Fill the Audience with Hope and Tears as You Inspire Them and Touch Their Hearts Using

Heartfelt Eulogies
Unforgettable Eulogies by

Famous People;
Robert F. Kennedy, Edward M. Kennedy, Oprah Winfrey, Bindi... *INCLUDED
Classic Funeral Poems and Verses by Emily Dickinson,
Lord Alfred Tennyson, Emily Bronte, Kahlil Gibran... *INCLUDED
Successful Methods of Public Speaking The Project Gutenberg E-Book by Grenville Kleiser *INCLUDED
Just for today, if you order by midnight, , you'll get this report ($40.95 value) and 3 Bonus Gifts for a tiny sum of $19.95!
Yes!

That's all this loving package is going to cost you...
$19.95
You see, I want you to take this important time to honor the dead and inspire those around you and therefore, my friend, I am making a humble offer to you...
Words that Last a Lifetime and Beyond

Order Now and reserve bonuses!
So... What Do You Get For the Tiny Sum of $19.95?
22 Pre Written Eulogies: Eulogy for Mother, Father, Toddlers, Teenagers, Brothers, Sisters and Cousins

8

Pre Written Funeral Speeches for Husband and Wife

8 Pre Written Eulogy Speeches for

Grandfathers and Grandmothers

, Stepfathers, Stepmothers

6 Pre Written Eulogies for Friends, Servicemen and Colleagues

Sample Letter of Condolence with Writing Tips

How to Organize, Write and Deliver a Heartfelt Eulogy - Eulogy Speeches Guide with Eulogy Examples

Funeral Customs & Etiquette - What to Say, What NOT to say in a Funeral Speech

Public Speaking Techniques and Advice - Lifesaving Tips for Public Speakers

Great

Eulogy Quot

es and Deep Thoughts by the Famous People to Get You Inspired

Famous Eulogy Examples including

Robert F. Kennedy Eulogy, Edward M. Kennedy, Oprah Winfrey's Eulogy, Bindi's Eulogy..

Classic Funeral Poems and Emotional Verses

Complete Guide to Public Speaking - Successful Methods of Public Speaking - Full e-Book
This unique 80-Page Eulogy Guide "

Heartfelt Eulogies

" is available for immediate download with FREE Bonus Gifts which means you're just a few clicks away from Creating Your Own Heartfelt Eulogy Speech...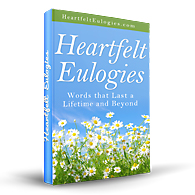 Download Right Now, 100% Risk-FREE!
(Instant Download. No Waiting. No Shipping. Free Bonuses.)
2CheckOut.com Inc. (Ohio, USA) is the exclusive authorized retailer
for goods and services provided by HeartfeltEulogies.com.


All Major Credit Cards Accepted

This report doesn't really need any testimonials, but I wanted you to see what these people had to say:
"Thanks much for your service. I've received Heartfelt Eulogies and have tailored the document to meet my needs. This was very helpful and easy to use. Thank you!"
Jonathan Bowen
"I just wanted to thank you. I made my Grandma proud. I do not think I could have done this on my own".
Tim Jones, Austin, Texas
"James, I have to admit I was terrified when asked to give an eulogy for a dear friend of mine. But, I felt much better as soon as I downloaded your guide. Thank you very much for this, I really appreciate it!"
Terry M., Washington
"Hi James, I am due to give a eulogy for my mother who recently passed away and I can't describe how terrible I felt about it. I used one of the sample eulogies and added few verses from funeral poems that came with the guide and my heartfelt eulogy was ready. I cannot thank you enough for this help, god bless you!"
Susan Bailey, New York
And, to make it truly Special for You
--there's absolutely no risk!

Your Iron-Clad, No-Risk, All-Your-Money-Back,
30 Days Guarantee!

Your Heartfelt Eulogies comes with a no-questions asked 100% Money-Back Guarantee. If for any reason, you decide that Heartfelt Eulogies just isn't for you, you'll get every penny back.

In fact, I'm so confident you'll be fully satisfied with Heartfelt Eulogies that I'm willing to let you actually keep the report, no matter what – as my way of saying thank you for trying Heartfelt Eulogies.

So, you see, you have absolutely no risk in ordering Heartfelt Eulogies – all the risk is on me!
Get Your Copy Now For Only $19.95
Click to Order by Secure Server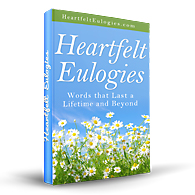 2CheckOut.com Inc. (Ohio, USA) is the exclusive authorized retailer
for goods and services provided byHeartfeltEulogies.com


All Major Credit Cards Accepted
TESTIMONIALS:
"Thank you so much for Heartfelt Eulogies. A good friend of mine recently died after battling a long illness. I wanted my words to be a fitting tribute and to honor the life he had led. There were so many memories, I really didn't have a clue how to start or what to include. But the templates and samples you provided in Heartfelt Eulogies were exactly what I needed for inspiration. I was able to create a eulogy that was truly worthy for my friends passing. I felt privileged to be able to voice what we were all feeling. I don't think I could have done it without your book. Thanks!" Art Turner, Waco, Texas
"I included several poems from your Heartfelt Eulogies in the memorial service for my father. I was amazed how even just reading through the guide in the package seemed to help my mom and me. Thank you!"
Melissa Barlow
"Mr. Nardel, the eulogy I have written for my father-in-law was very well received and a lot of it is down to your book. I am not very good when it comes to writing, so I needed all the help I could get. I will recommend this book to anyone who is in a similar situation, as I know how difficult it can be. Sincerely,"
Tom Winchester, Baton Rouge, Louisiana
"James, your book of eulogies was extremely helpful. I didnít even know where to start as I have never been asked to give an eulogy before, but by following the outline in your book I have managed to finish the eulogy in a few hours. Thank you!"
Sheila Miller, Boston, Massachusetts
Order Now and reserve free bonuses!
To your success,
James Nardel

PS:

Do you really want to create and deliver a loving eulogy takes touches hearts? Then, you need to get your hands on the pre written eulogy templates... right now! Buy from 2CO and ensure that your eulogy touches the hearts of those who hear it.

PPS:

As if the pre written eulogies were not enough, we have included your step-by-step Guide to Public Speaking and capturing the hearts of your audience - Classic Funeral Poems, Famous Eulogy Examples and more FREE bonus downloads...

2CheckOut.com Inc. (Ohio, USA) is the exclusive authorized retailer
for goods and services provided by HeartfeltEulogies.com.