If you had a father who has recently passed away then you'll need to understand the basics of writing a eulogy for them. Writing a eulogy is probably one of the most difficult things that you'll need to do, not just because of the structure and format, but because of the emotional investment you'll need to make. Here are some steps to follow for writing a eulogy for your father.
Step #1: Collect
The first step towards writing your eulogy is to gather some information. What are were your favorite memories with your father? What were some of the memories that you have of him as a person? Are there any big life lessons that he taught you? Write down everything that comes to mind and don't worry about writing too much – you can always trim it down letter during your final draft.
Step #2: Organize
Now that you've collected all of the stories and facts that you'd like to include in your eulogy, it's time to start organizing everything. During your speech, try to avoid jumping around to different periods of time or different places when recalling memories. Instead, try to focus on only one or two of your best memories and talk about those. This isn't a set rule, however, and there are no limit to how many stories you want to include.
Step #3: Start Writing
Like writing a college paper, you might need to write it two or three times before you get it right. Since this is a tribute to your father, make sure that you've properly constructed all of your paragraphs, sentences, and that all of your content flows naturally. It isn't necessary to remove grammar or spelling errors since you're going to be the only one reading the eulogy during the memorial ceremony.
Step #4: Rehearse
Practice reading your speech aloud as much as you can. The more you practice, the easier it will be to deliver it during the ceremony. Above all, don't be nervous, and know that nobody is going to be judging you based on the quality of the speech about your father.
---
Heartfelt Eulogies
Words that Last a Lifetime and Beyond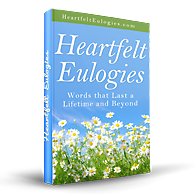 Easily create and deliver loving eulogy based on these proven, heart touching eulogy speech templates, examples of famous eulogies, funeral poems and quotes with bonus downloads.
Forget about spending hours trying to write a eulogy from scratch. Follow the templates provided in Heartfelt Eulogies e-Book and spend your time with the family who need you the most.
---