Why is writing funeral poems for mom difficult?
If there's one person who showers us with unconditional love it has to be our mother. And when the time comes for us to say our last goodbye to our mother, it's only right that we give her a special message from the bottom of our hearts. Funeral poems are not so hard to write. It's only hard because we are so emotional about her leaving us. We know the exact words to say but writing it down and delivering it in front of other people can be overwhelming. You're scared you'll burst out crying in the middle of your delivery.
Writing it down
As a child, it's your responsibility to write funeral poems for mom especially if you're tasked by the rest of the family to do it. Consider yourself honored since it's your chance to let everybody know how much you love your mom. So what are you going to write down? The most practical way is to write about what you know. For example, you can list the admirable traits of your mom and write a poem about them. You can even write a short verse or narrative about your fun times together or the lessons you've learned from her.
Sample funeral poem for mom
I will miss your warm smile
That wakes me up every morning
I will miss your sweet kiss
That makes me feel better during hard times
I will miss your laughter
That brightens up my darkest days
I will miss the touch of your hand
That tells me everything will be all right
I will miss your kind words
That inspires me to go after my dreams
I will miss your love
That taught me how to open my heart
Most importantly, I will miss YOU.
---
Heartfelt Eulogies
Words that Last a Lifetime and Beyond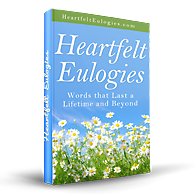 Easily create and deliver loving eulogy based on these proven, heart touching eulogy speech templates, examples of famous eulogies, funeral poems and quotes with bonus downloads.
Forget about spending hours trying to write a eulogy from scratch. Follow the templates provided in Heartfelt Eulogies e-Book and spend your time with the family who need you the most.
---