Poems can serve as emotionally captivating messages that should be incorporated into many memorial speech at a funeral. In the following sections, we'll provide you with a few examples of poems that you can say when giving a eulogy.
Poem #1
If I were to die, and leave this world for a while, I would hope that my long life be memorialized by life and more smiles. For the sake of those who loved me most, I hope they find peace in their hearts, and that all of their unfinished tasks find enough time to manifest, because I am forever with you.
Poem #2
Stop all of the clocks, and turn off all of the telephones. Silence all of the music, and bring in the coffin. Allow the people who are mourning to gather around, as we help remember someone truly special without turning a frown.
As the blue skies cross over, and the quiet streets ahead turn low, I hope that you all see the great life I lived, as I must go now. So wash away the sadness, put away the grief, and please don't let my death be in vein, I wish you all the best.
Poem #3
As I read this, an honest man rests. A good friend, lover, and father, who failed no test. Although you are gone, you are not forgotten, and I'll cherish the memories we've knotted. Fill your heart with love, and revert back to youth, if there is another world, I'm sure he'll feel soothed.
Poem #4
Although the time has come where she now must pass, I hope you all can raise a glass. Cheers to the woman who made a difference in our lives, and whose presence inspired everyone us all, despite our misfortunes. Allow this final salute not to go unnoticed, as we speak once more for this wonderful woman.
Speak From the Heart
When writing your own poems, or choosing ones to include in your eulogy, make sure that they speak from the heart, and that they accurately represent what you are feeling during these emotionally trying times.
---
Heartfelt Eulogies
Words that Last a Lifetime and Beyond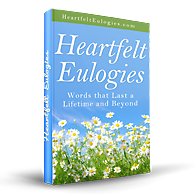 Easily create and deliver loving eulogy based on these proven, heart touching eulogy speech templates, examples of famous eulogies, funeral poems and quotes with bonus downloads.
Forget about spending hours trying to write a eulogy from scratch. Follow the templates provided in Heartfelt Eulogies e-Book and spend your time with the family who need you the most.
---