William was a wonderful man. From the time I was a child, he was never too busy for me. I'll never forget when I was ten years old. I wanted a Spin Art kit. You would put the piece of cardboard into the holders, and then tap on a pedal that would spin the cardboard. As the cardboard spun around, you would drop paint on it, creating a tie die effect. I loved that little art kit with all of my heart. Within hours I had used up all 200 little squares of cardboard that I had. With each piece of cardboard, I proudly ran to my father to show him my new masterpiece. With each new masterpiece, he patiently put down his book and looked at my creation before telling me how wonderful it was.
That patience was one of the many reasons that I grew to admire my father. I rarely saw my father lose his temper, or his patience. Regardless of the situation, my father remained in complete control of his emotions. I also admired the kind of man my father was. He was a driven man, and very goal oriented. He always fought to achieve his goals, climbing one mountain and then going on to climb another one. That drive and motivation was the reason for my father's extreme success in life. He was a successful man, and a spectacular father.
Another reason that I grew to admire my father was the kind of father that he was. He was committed to making his children happy, to raising wonderful children and to simply being there. He loved to take us all fishing and hunting, not to mention out riding four wheelers. My father was at every school play and volunteered every year on field day at my school. Every year he would jokingly accuse me of cheating.
I will never forget his quirky yet wonderful sense of humor.
My kids will forever miss the papa that gave them piggy back rides.
Friends and family will miss the laid back, wonderful person that he was.
William will always be missed, by all of us for one reason or another.
---
Heartfelt Eulogies
Words that Last a Lifetime and Beyond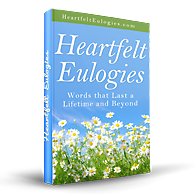 Easily create and deliver loving eulogy based on these proven, heart touching eulogy speech templates, examples of famous eulogies, funeral poems and quotes with bonus downloads.
Forget about spending hours trying to write a eulogy from scratch. Follow the templates provided in Heartfelt Eulogies e-Book and spend your time with the family who need you the most.
---