To some people, their sister is their best friend. She is someone that you can talk to over the phone for hours talking about nothing at all. The demise of a sister can really be devastating. Writing a eulogy for your sister can give you the opportunity to say things that you haven't told her when she was alive. This is your time to tell the world how much you sister means to you. If you are still searching for words on what to say on your funeral speech, here are some ideas.
How to write a eulogy for sister
Think of your sister as you grow together. Jot down the fun and memorable moments that you shared. Tell about something you shared as kids or as an adult. Recall the times when you have felt the love of your sister- this can be something nice to share to your audience during the funeral.
Think of your sister's characteristics and how she is as a sister. You can also talk to her close friends, co-workers and family to get their opinion about her. You can portray your sister as a good wife and a reliable friend during your funeral speech.
Talk about your sister's contribution to your family or the community. It would be nice to hear about her achievements and milestones in her life.
Always end with a positive cheer. You can talk about funny experiences that you had with your sister to make the mood lighter.
Sample eulogy for sister
Though we don't have you in our midst, you would always be remembered as a reliable friend, a loving mother and an understanding wife. To me, you are like my fairy godmother who would just jump out of nowhere whenever I need some help. When we're kids, you would always help me with Math and as we grow older, you would always help me go through my bad relationships. You are my life saver. Thanks for sharing your life with me and with the rest of us gathered together today to celebrate your life.
---
Heartfelt Eulogies
Words that Last a Lifetime and Beyond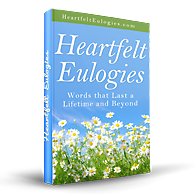 Easily create and deliver loving eulogy based on these proven, heart touching eulogy speech templates, examples of famous eulogies, funeral poems and quotes with bonus downloads.
Forget about spending hours trying to write a eulogy from scratch. Follow the templates provided in Heartfelt Eulogies e-Book and spend your time with the family who need you the most.
---