Losing a family member is no doubt difficult, but losing a mother, the person who gave birth to you, can steal a huge part of your happiness. A eulogy is a great way to start healing after your mother has passed, and will help everyone in the audience remember what an amazing person she truly was.
Mother Speech Example #1
"Mercy was only 55 when she passed away unexpectedly on Friday, February 18th in Deland, Florida. Saying goodbye is difficult. I wish we would have had more time together. I wish that we would have spent more time together. I wish that your illness wouldn't have taken your life so early. While I know that you're now resting in peace, it's difficult for me to find the words to express how much I loved you, but I'll give it a try.

My mom was an avid gardener. She was a woman who took a lot of pride in her flowers. Sometimes, she even treated them like her own children! I believe that she was an amazing gardener because of her special attitude towards life. Being a hard worker, and have both persistence and patience, she could put a smile on anyone's face given enough time. She was that kind of person. You'll be remembered forever mom. I love you".
Mother Speech Example #2
Mom is survived by her five children and three grandchildren, as well as her other family members and friends. There's no doubt that this family isn't going to be the same without mom. She provided us with strength, courage, and discipline. She was a woman who thoroughly enjoyed life, and this attitude helped all of use enjoy life a little more as well.

My mother, Sarah, spent 15 years battling her illness. She was a very tough person, and during this time, she continued to provide for us. This wonderful life lesson, hard work, is something that I'm going to carry with me for the rest of my life. Her death has made me realize just how short life can be, so I'm going to try to use this as an opportunity to change for the better."
---
Heartfelt Eulogies
Words that Last a Lifetime and Beyond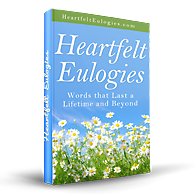 Easily create and deliver loving eulogy based on these proven, heart touching eulogy speech templates, examples of famous eulogies, funeral poems and quotes with bonus downloads.
Forget about spending hours trying to write a eulogy from scratch. Follow the templates provided in Heartfelt Eulogies e-Book and spend your time with the family who need you the most.
---