Writing a eulogy can be challenging. You might be finding it difficult to choose the right words. You might even be confused about the structure and layout of a traditional eulogy. To help provide you with a little guidance and inspiration, here is an example of a eulogy speech that you can use as a reference when writing your own.
Example Speech – Eulogy for a Deceased Father
"The loss of my father was the most difficult thing that I've ever had to go through in my life. As I stand here today, I now realize just how lucky I was to call him my father. There are no amount of words that can express how he influenced my life. Thanks to him, I'm a better father, husband, and person.
As most of you already know, my father was a gentle, loving, and strong man. He was a deeply devoted "family man", and was always there for my three siblings and I. To my mother, he was a hardworking and loyal husband, and to his friends, he was a man that you could always count on when you needed him most.
One of the biggest life lessons that I learned from my father was the value of hard work. He always did what he needed to do to provide for his family, and I can hardly remember a time when my father wasn't working his hardest to give us the best of everything. These are values that I'll carry with me for the rest of my life.
In closing, I'd like to say that it's because of him that I have the strength and courage to stand up here today and deliver this speech. My only hope is that one day, when my time on earth comes to an end, my children will be able to look back and think about me the same way as I think about my father now. It is because of him that I am who I am today. Thank you father, and I love you."
Conclusion
This speech sits on the shorter end of the spectrum, but as you can see, it flows quite elegantly. Feel free to use it as a reference and source of motivation when you're having a difficult time writing your own eulogy.
---
Heartfelt Eulogies
Words that Last a Lifetime and Beyond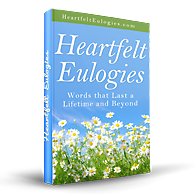 Easily create and deliver loving eulogy based on these proven, heart touching eulogy speech templates, examples of famous eulogies, funeral poems and quotes with bonus downloads.
Forget about spending hours trying to write a eulogy from scratch. Follow the templates provided in Heartfelt Eulogies e-Book and spend your time with the family who need you the most.
---