Writing a eulogy speech for a friend isn't much different than writing one for a family member. After all, if you've been chosen to give this speech, chances are good that you were close enough to the friend to consider them family anyway. With that being said, let's look at a few tips that you can follow for writing an emotionally captivating eulogy speech for a friend.
Convey Their Positive Character Traits in Words
Everyone has something that makes them special – including your deceased friend. When writing your eulogy, try to think about all of the character traits that made them different. For example, were they outgoing? Generous? Kind? Try and find all of the right words that best describe who your friend really was.
Give an Example of Their Traits in the Form of a Story
Once you've determine what their positive traits were, portray them in the form of a story. For instance, if your friend was well-known for being selfless, then provide an ample of this within your speech, like this, "Johnny was always putting others before himself. When we were young, he took the blame for the mess in the kitchen so that I wouldn't get in trouble – now you know mom and dad".
Write With Your Heart, Not Your Mind
During this emotionally trying time, use your grief and sadness as a tool for writing an emotionally engaging speech that will help you heal. Don't spend so much time trying to write the perfect eulogy and instead focus on helping the audience feel what you feel. Use your alone time to come up with ideas and write. Afterwards, share those ideas with family members and friends and ask for feedback to how you can make the speech flow better.
Conclusion
A final tip to remember is this – make sure that you include the deceased's family in the eulogy. At the very least, you should thank them for allowing you the privilege to speak at the memorial ceremony. And when it comes time for delivery, take a deep breath, relax, and speak from the heart, because that's what everyone came to hear.
---
Heartfelt Eulogies
Words that Last a Lifetime and Beyond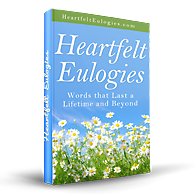 Easily create and deliver loving eulogy based on these proven, heart touching eulogy speech templates, examples of famous eulogies, funeral poems and quotes with bonus downloads.
Forget about spending hours trying to write a eulogy from scratch. Follow the templates provided in Heartfelt Eulogies e-Book and spend your time with the family who need you the most.
---