There's no doubt that losing a close friend can an emotionally challenging experience. But writing a eulogy to honor them and celebrate their life can provide you with some inner peace, and is a great way to heal.
Writing a Eulogy is an Honor – Choose the Right Words to Say
Writing a eulogy is an honor. Although a bit scary, it's certainly a privilege when you get an opportunity to help share all of the positive memories that you and your friend once shared. This is a chance to talk about their positive character, their achievements, and qualities as a person. If you and your friend shared an exceptionally close relationship, coming up with things to write about shouldn't be difficult.
What Favorite Memories Did You Both Share Together?
What are some of the fondest memories that stand out between you and your friend? Did you both take a road trip together? Did you attend a concert? Or throw a surprise party? Sort through your memories and choose ones in which both you and your friend were at your happiest. The audience wants to hear about all of the good times that you both shared, and mentioning positive memories is also a great way to heal.
It Doesn't Need to Be Read Like a Script
Most people think that after finishing the final draft of your eulogy for your friend, you need to read it word for word at the ceremony. It doesn't need to be this way though. In fact, your eulogy can just serve as a guideline as you convey your feelings. If you choose to read the eulogy word for word as a script, that's fine too. However, some people find it easier to write down tidbits of memories and then finish the remainder of the speech on their own.
Mention The Friend's Family
Remember that you're probably going to be reading your eulogy in front of the deceased's family, so make sure that you mention them. Explain how your friend was a quality family person, and how they positively affected their family in ways that they will
---
Heartfelt Eulogies
Words that Last a Lifetime and Beyond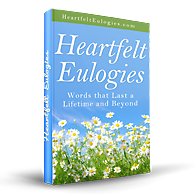 Easily create and deliver loving eulogy based on these proven, heart touching eulogy speech templates, examples of famous eulogies, funeral poems and quotes with bonus downloads.
Forget about spending hours trying to write a eulogy from scratch. Follow the templates provided in Heartfelt Eulogies e-Book and spend your time with the family who need you the most.
---