While words on a page can never fully express the amount of love that you had for someone, they can provide us with hope, solace, and comfort. Below, you will find a few eulogy quotes for fathers that relate to grief, death, and dying.
"A truly rich man is one whose children run into his arms when his hands are empty" – Author unknown

"To a father, growing old nothing is dearer than a daughter" – Euripides

"Any many can be a father, but takes someone special to be a dad" – Anne Geddes

"My father gave me the greatest gift anyone could give another person, he believed in me" – Jim Valvano

"My father always used to say that when you die, if you've got five real friends, then you've had a great life" – Lee Iacocca

"It doesn't matter who my father was; it matters who I remember he was" – Anne Sexton
Eulogy quotes for fathers come in all kinds of shapes, sizes, and styles. As you can see, they can help you accurately represent what it is that you have to say about your father.
When to Use Quotes During a Eulogy
Eulogy quotes are typically saved for the ending of the speech, although, there aren't really any concrete rules backing this up. Use as many or as few eulogy quotes as you like, just make sure that they are relevant to how you actually feel. This will help make your memorial speech much more memorable and special.
Choosing the Right Quotes
Quotes about dying, death, and grief can be used to express how you felt about your father. They add value to your eulogy, and will allow the audience to connect with what you're saying much more easily.
Choosing the right quotes is all about choosing ones that help depict how you're feeling, as well as your views towards your father. You can even choose your father's favorite quotes (if you know what they were) and include those in your speech. Either way, eulogy quotes for a deceased father are beautiful, and should be considered for any memorial speech.
Find more eulogy quotes here.
---
Heartfelt Eulogies
Words that Last a Lifetime and Beyond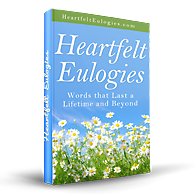 Easily create and deliver loving eulogy based on these proven, heart touching eulogy speech templates, examples of famous eulogies, funeral poems and quotes with bonus downloads.
Forget about spending hours trying to write a eulogy from scratch. Follow the templates provided in Heartfelt Eulogies e-Book and spend your time with the family who need you the most.
---