Why use a poem for a mother's funeral?
Losing a mother is never easy, as they have been the ones who raised us and took care of us. Mothers are the figures who work hard to give us a good quality of life, sacrificing even their own deepest wants and desires as long as they can give more to their children. Using a poem to honor a mother in her funeral is a good way to add substance that no other words can offer. There are many poems out there created solely for mothers or you can also write your own.
How to create a poem for mother's funeral
If you don't have experience in writing a poem, you may want to have a scratch pad where you can write down your favorite quotes and memorable experiences with her.  You and your mother may have a particular tradition that no one else knows, this is a good time to write it down on paper and let other people know. Also describe her character: how strong she was and how she lifted the family up in times of need, how she was there for you, and how she knew you like no one else can. Think around these lines, and you'll surely be able to put a poem together in no time.
Sample verses in a poem for mother
My childhood is made up entirely of fragments of you, smiling down at me
Full of love and joy, the kind of warmth only a mother can give, but only we can see
Your beauty on the outside is unmatched by the treasures in your heart
I have been lucky enough to experience this, and because of your love we will never truly ever be apart.
You can play with words to suit your own feelings and preferences to demonstrate how you really feel about your mother.
---
Heartfelt Eulogies
Words that Last a Lifetime and Beyond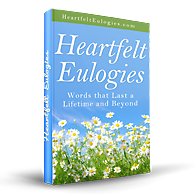 Easily create and deliver loving eulogy based on these proven, heart touching eulogy speech templates, examples of famous eulogies, funeral poems and quotes with bonus downloads.
Forget about spending hours trying to write a eulogy from scratch. Follow the templates provided in Heartfelt Eulogies e-Book and spend your time with the family who need you the most.
---