During funerals, we can really feel that there is a sad and gloomy atmosphere. This is why prayers are very important. Funeral prayers are recited not only for the sake of the deceased person but also to the people who he had left behind. Death can often bring us to a spiritual journey. It can also make us realize the value of life. More than anything, during these times of sorrow, we should hang on to our religion. Funerals sermons are very comforting to hear especially if they are written and delivered well by the officiating pastor or priest of the funeral.
Largely, Christians and Catholics would often have a ceremony or celebrate the Holy Eucharist during a funeral. This is the time where the priest would give out his funeral sermons. They are filled with hopes and positivism that God has mercy on His people and through His love, the deceased would achieve eternal life with the Father.
Take time to listed and reflect on funeral sermons. You can learn a lot of lessons in the words of your preacher. Take something home with you- a positive outlook and a determined mindset to continue with life with hope and love.
Sample funeral sermons
We are here today not to spread sorrow and grief to the people present here today, but we gather together today in unison to pray for our sister, Jill. We believe that our prayers would help her be with the Father in his kingdom. Prayer is a powerful instrument that we can use to help Jill in her journey to the next life. The best thing that we can do right now, is not to cry, but to pray for Jill- that is the best gift that you can give her. The flowers would wither but prayers never will.

Trust in God. He has plans for all of us. He works in mysterious ways and soon, you would know the reason why all of these have to happen and why He has to take Jill away. We should not only pray for Jill, but we should also pray for each other. May we move on with our lives and live the lessons and the values Jill imparted us with.
---
Heartfelt Eulogies
Words that Last a Lifetime and Beyond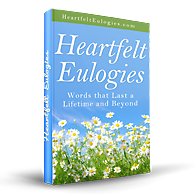 Easily create and deliver loving eulogy based on these proven, heart touching eulogy speech templates, examples of famous eulogies, funeral poems and quotes with bonus downloads.
Forget about spending hours trying to write a eulogy from scratch. Follow the templates provided in Heartfelt Eulogies e-Book and spend your time with the family who need you the most.
---