Derived from the Greek words "eu" which means good and "logo" which means word, a eulogy is defined as a formal expression of praise. More commonly it is described as a spoken or written tribute usually given in honor to someone who died recently.
Death, being a mystery, has confounded humanity since the olden days. Ceremonies for the dead have long been practiced since the ancient times as a ways and means of coping with this mystifying event. In the ancient Roman times, a eulogy in a form of an oratory served as a means of remembrance and a way of honoring the newly departed among the elite of society. The oratories, given usually by the son or a close relative, offered a remembrance of the good deeds, achievements and character of the deceased. A Roman eulogy is always made in a positive tone to reassure the prestige of the bereaved family.
Early Christian eulogies were patterned after the Roman orations but have an added aspect of religious messages of consolation and comfort. Eulogies of the Christian kind discussed scriptural references to death and biblical exhortations while giving honor to dead by dwelling on the deceased's life on earth and requesting support of the community for the bereaved family. Biblical and scriptural references in eulogies usually focus on the heavens, eternal life and the reunion with loved ones who passed away earlier. Eulogies were performed by church leaders such as priests and pastors as a religious ritual.
Contemporary eulogies are no longer limited as traditional religious ceremonies. Family members and friends provide eulogies in a more human and less religious manner because of their close association with the departed. Some contemporary eulogies are delivered on the lighter and less serious side to lessen the grievous atmosphere of death while still providing comfort and support to family and friends of the departed. Contemporary eulogies also use non contemporary technologies such as video presentations, slide shows, audio recordings, Internet broadcasting and other media.
The advancement of technology through the Internet and the World Wide Web has influenced the delivery and practice of eulogies. Access to numerous resources and websites on eulogy writing, samples of famous eulogies, instant eulogies and funeral sermons are now available online. Advancements in Internet video streaming can also provide a means of transmitting and broadcasting eulogies to family members and friends who could not be present at funerals.
---
Heartfelt Eulogies
Words that Last a Lifetime and Beyond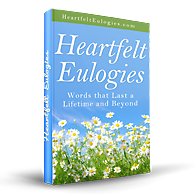 Easily create and deliver loving eulogy based on these proven, heart touching eulogy speech templates, examples of famous eulogies, funeral poems and quotes with bonus downloads.
Forget about spending hours trying to write a eulogy from scratch. Follow the templates provided in Heartfelt Eulogies e-Book and spend your time with the family who need you the most.
---