Why use poems for funerals?
When someone passes, it may be difficult for his loved ones or close friends to find the right words to express how they feel about the deceased's life or death. This is why the use of artistic literature such as songs, verses, poems, and short stories are often inserted into eulogies or anecdotes. It helps provide a sort of inspiration to draw out the words and feelings of the entire situation. Poems in particular are more dramatic and are good for leaving the crowd feeling inspired, as there are many tried and tested verses used to soothe crowds in funerals.
How do you find the best poems for funerals?
There are many funeral poems out there; although it is hardly the case that one poem may fit all occasions. It is better to customize the poem and find one that is really meant for the role that person played in your life, whether it be a spouse, sibling, parent, grandparent, friend, or cousin. In your research for the right poem to use, you may want to search for poems that focus on a particular theme such as: parental love, faith, or any subject you see most fit.
Sample verse for funeral
Together we have walked miles on this earth
Miles of night, miles of day
Nothing could separate us, I thought, until that dreary evening in May
You joined the angels high above
Continue to shine us with your light and love
Two best friends are never really separated
I will continue to write to you even when I am aged
Prayers that you miss me, see me, and hear me
And I know that in the afterlife, we will be reunited beautifully
These are just some ways you can make use of poems for funerals, but you can be unique and make your own.
---
Heartfelt Eulogies
Words that Last a Lifetime and Beyond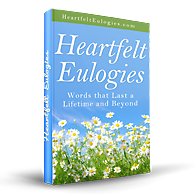 Easily create and deliver loving eulogy based on these proven, heart touching eulogy speech templates, examples of famous eulogies, funeral poems and quotes with bonus downloads.
Forget about spending hours trying to write a eulogy from scratch. Follow the templates provided in Heartfelt Eulogies e-Book and spend your time with the family who need you the most.
---