A funeral memorial speech
If you have been asked to recite a funeral memorial speech, you are being asked to honor the deceased through the power of words. You are probably a family member, loved one, or close friend of the one that passed, therefore you have intimate yet wonderful stories you can share with others about how they lived their lives. In order to write a good eulogy, you should already think of the overall theme or approach. To think about it, you should spend a few hours thinking it, as you don't want to rush it. Feel free to keep a journal or notebook close by so you can write notes about the theme or any short stories you want to add to the funeral memorial speech.
Tips in writing a funeral memorial speech
Don't forget to introduce yourself, in just a few words as there will be some attendees who may not know your relation to the deceased.
Always customize the eulogy – this makes it more sincere and heartfelt, by expressing your own personal feelings as well as thoughts. Always avoid any negative comments or memories as these are hurtful for those who love the deceased. You may even add some photos.
Share unique, funny moments you may have had with them, or any important lessons you learned.
Sample funeral speech
"My name is Michael, I have been a long time friend of John's, way back since our high school days. He's been lucky enough to live the amazing life he had, he's been able to travel the world and I have to say all that traveling certainly made him more mature and cultured than the rest of us. He's always been the one with the most logical and rational decisions amongst all of us, as he's played the brother figure very well. I'm sure when you think of John, you all think of someone who matured young, and who has a good head on his shoulders. All of us friends were lucky to have a friend in our lives such as John, who has inspired us all to become better in everything we do."
---
Heartfelt Eulogies
Words that Last a Lifetime and Beyond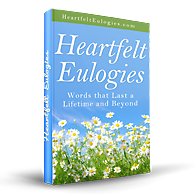 Easily create and deliver loving eulogy based on these proven, heart touching eulogy speech templates, examples of famous eulogies, funeral poems and quotes with bonus downloads.
Forget about spending hours trying to write a eulogy from scratch. Follow the templates provided in Heartfelt Eulogies e-Book and spend your time with the family who need you the most.
---