What are funeral speeches?
Funeral speeches are often referred to as elegies. They are speeches dedicated for the departed individuals. A funeral speech can be given by the most special person of the dead like a husband or wife or anybody close to the deceased. Since it's for a funeral, these speeches are very solemn and serious. The content of the speech focuses on the virtues of the departed or it can tell about his or her memorable experiences here on earth. What's important is that funeral speeches must be able to touch the hearts of everybody present during the service.
How to write funeral speeches
If it's your first time to write funeral speeches then there's nothing to worry about since it's very easy to do. You don't have to be a bestselling author just to come up with a very decent funeral speech. One of the first things you have to do is to ask yourself what exactly do you want people to know about the deceased. Do you think they'll be interested to learn about the remarkable virtues of that person or his or her dreams and aspiration in life? Once you already have an idea of what to talk about you write your outline. You just have to make an introduction, body, and ending to your speech. Lastly, finalize your draft and if you're not yet confident about what you've written then have it reviewed by a friend.
Things you must NOT write
Remember that eulogies like funeral speeches are serious in nature. Never write about an embarrassing moment of the deceased and make everybody laugh. In addition, never reveal the darkest secrets of that person which he or she shared with you. Also, bear in mind that it's a speech and not a sermon so it shouldn't be too lengthy. Stick to the basics and never write anything against the deceased.
---
Heartfelt Eulogies
Words that Last a Lifetime and Beyond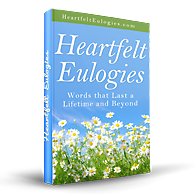 Easily create and deliver loving eulogy based on these proven, heart touching eulogy speech templates, examples of famous eulogies, funeral poems and quotes with bonus downloads.
Forget about spending hours trying to write a eulogy from scratch. Follow the templates provided in Heartfelt Eulogies e-Book and spend your time with the family who need you the most.
---