A eulogy is a speech created for the sole purpose of commemorated your love and appreciation for a person who has died. These speeches are generally delivered either during the funeral or memorial service by individuals who were close to the deceased. Some of the more common characteristics associated with a quality eulogy include:
A shortened life history of the person who has passed away
Details about their passions, friends, family, career, and achievements
Your favorite memories about that person
Their favorite quotes, songs, or poems
Remember that the eulogies that are the most meaningful are the ones that come from the heart. A eulogy doesn't need to be written flawlessly either. No matter what you write, you can be assured that the audience in attendance is going to accept it and appreciate it as much as you do.
How to Write a Eulogy – Steps to Know
Here are some simple steps that you can follow when learning how to write a eulogy:
1. Realize The Task at Hand: Remember that delivering and writing a eulogy is a big honor. This is your opportunity to let everyone know how the deceased made such a powerful impact in your life.
2. Recall Your Memories: Dig backwards and try to find your most precious memories with the deceased. They don't need to be exceptionally exciting stories – just something that was special to you.
3. Gather Their Information: Gather information regarding their date of birth, age, relationships, education, work career, and even special interests. This will help you when writing your eulogy.
4. Organizing Everything: Finally, go through the information that you've gathered about the deceased and organize into whatever speaking style you're comfortable with. If you're a story teller, then recite interesting stories that you shared together. If your goal is to be open and vulnerable, choose touching aspects of their life and share it with everyone at the ceremony.
Delivering your eulogy sounds scary, but the truth is that nobody at the ceremony is there to judge you on the quality of your speech. They are there for the same reason you are – to help honor the deceased and celebrate their life.
---
Heartfelt Eulogies
Words that Last a Lifetime and Beyond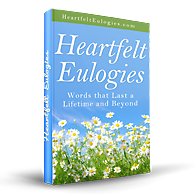 Easily create and deliver loving eulogy based on these proven, heart touching eulogy speech templates, examples of famous eulogies, funeral poems and quotes with bonus downloads.
Forget about spending hours trying to write a eulogy from scratch. Follow the templates provided in Heartfelt Eulogies e-Book and spend your time with the family who need you the most.
---