Reciting funeral prayers is an important part of a funeral. To most religion, prayers are believed to help the deceased person reach heaven and continue with her spiritual journey. Prayers should be comforting and positive. It should have inspirational verses to keep the mood of the moment sincere and solemn. There are a number of funeral speeches that you can choose from. You can get them over the Internet or you can get something from your prayer book.
There are several kinds of funeral prayer. So make sure that you picked something that is right for the event. You should know what religion or funeral type you are attending to in order to know which prayer to recite. There are pre-written funeral prayers for Christians, Baptists, Catholics, and Jewish. You can also find funeral prayers that can be used by Protestants, Episcopal, and Methodists.
When writing a funeral prayer, you can also include your own personal prayer and your personal intentions. It would be nice to write a prayer that gives inspiration and hope to the people that are present during the funeral. You may also include some inspirational bible verses and quotes. Recite something that people can remember when they leave the funeral.
After you've come up with a funeral prayer, (either something that you have written or taken from a prayer book or the Bible) it would be a good gesture to let the officiating priest or pastor take a look at your prayer. This way, you would know whether or not it is appropriate for the event.
Sample funeral prayer
Almighty God the Father
You treasure everything that you created
You are the judge of our life
We believe in your mercy and love
As we depart from Jill today
Please lead her to your loving arms
May you embrace her in your kingdom
And continue to shower us with your grace
Amen
---
Heartfelt Eulogies
Words that Last a Lifetime and Beyond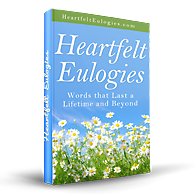 Easily create and deliver loving eulogy based on these proven, heart touching eulogy speech templates, examples of famous eulogies, funeral poems and quotes with bonus downloads.
Forget about spending hours trying to write a eulogy from scratch. Follow the templates provided in Heartfelt Eulogies e-Book and spend your time with the family who need you the most.
---