One of the most trying times in our lives is when a person close to our hearts dies. He or she may be your friend, your partner, your lover or your parents. You would be going through a lot of emotions- denial, grief and even depression. It is important that you should know how to handle your emotions and channel it in a positive way. In times of bereavement, you can write poems. You can read what you've written during the eulogy and inspire a lot of people.
Poems on death can also give any funeral speech some spice. Your poems should be something personal. This would really touch the heart of everyone and would definitely make the deceased person happy- wherever he or she may be. If you don't know where to start on how to write poems on death, you can search the Internet for examples and get inspiration from them. You can do your own funeral poems with little effort and pure emotions. The first thing that you should do is to put your emotions into words. At first, don't worry about restrictions or rhymes. Let go and let your emotions pour out. You would never go wrong by staying truthful and sincere. After doing some writing, you can do some edits so that your write up would sound like a poem. With enough patience, you would definitely come up with a very touch funeral poem.
Example funeral poem
When you have gone, I should let go
Even when you are not here
I know you would never leave me
Your eyes would be looking down at me
Your protective eyes would keep me safe
I thank you for the smiles and cheers
For the laughter and the tears
No one would replace you in my heart
And in His time we never have to part
---
Heartfelt Eulogies
Words that Last a Lifetime and Beyond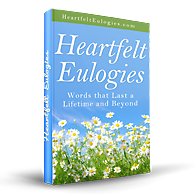 Easily create and deliver loving eulogy based on these proven, heart touching eulogy speech templates, examples of famous eulogies, funeral poems and quotes with bonus downloads.
Forget about spending hours trying to write a eulogy from scratch. Follow the templates provided in Heartfelt Eulogies e-Book and spend your time with the family who need you the most.
---