Death poems don't necessarily need to be gloomy or solace. In fact, they don't need to incorporate a specific style at all. As long as you feel that you're saying what you feel in the most honest and vulnerable way possible, it's going to be an emotionally captivating poem. To help get you familiarized with what a death poem should sound like, here are a few ones to use as a reference below.
Death Poem Example 1 – The Song of Life
Because you loved throughout your life, you didn't have any sorrow in your heart when you died. You sent your graceless angle wings into the deep blue sky. Now, every time that the wind settles or the rain falls, I will feel you. The peace of heaven, is with you now, and one day, I will hold your hand once again. As I look through the window of my empty kitchen, I can still see you playing in the yard, and I know you're smiling down at me, for you've loved your life and lived it like a burning star.
Death Poem Example 2 – Going Away For Good
I cannot say why it happened, but I know that you've gone away for good. Your cheery smile and gentle personality is only a memory now. Every now and then, when I'm alone and I cry, an image of your face comes to my eye. From the moment I first met you, to the moment you took your last breath, these memories are like gold to me, as I grieve for your death. So live on, live on, in a world far away from here, and please don't forget me, because soon we'll be near.
Death Poem Example 3 – A Guest Parting Ways
Live, laugh, and love, that's what they always say, but I never could have imagined, that it would have ended this way. Through all the sorrow and all the pain, you're now a parting guest, who I hope to see return again someday, so that I can give you my best. Although you're gone, our bond remains strong, that time until we meet again, won't be that long.
---
Heartfelt Eulogies
Words that Last a Lifetime and Beyond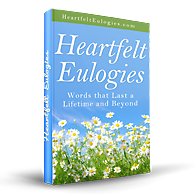 Easily create and deliver loving eulogy based on these proven, heart touching eulogy speech templates, examples of famous eulogies, funeral poems and quotes with bonus downloads.
Forget about spending hours trying to write a eulogy from scratch. Follow the templates provided in Heartfelt Eulogies e-Book and spend your time with the family who need you the most.
---