Using a contemporary or traditional funeral poem during a memorial service can help provide both you and the guests with some solace and inspiration. Below you'll find a few example poems as well as some tips that you can follow to create your own.
Remembering Yesterday
Remember me when I've gone away, far to a silent world, when you can no longer hold my hand. Remember me when you feel like you've got nowhere to say, and know that deep down inside, we'll meet again one day. Although our futures didn't go as planned, I certainly understand, and you'll see me up late nights so that I can sit and pray. An indication of your image, I once had, and for better or worse, I'll remember and be sad.
Leaving in the Night
Please don't go into that gentle good night, I don't think I could bare, if you went out of site. I'm raged about dying, I'm raged about death, and I can only hope that I'll pass this emotional test. I hope that where you are now, you're happy and free, and that every so often, you're looking down at me. So leave in the night, if you must, but hold my hand until it's over, so that we can memorialize our trust.
Qualities of a Good Death Poem
What are some of the qualities of a good death poem? As you already know, poetry is about speaking from your heart, so a good death poem needs to be that – authentic. When writing a death poem, whether for yourself or for a memorial speech, don't hold anything back. Say and write down exactly what you're feeling.
Death poems vary in length, style, and structure. They don't necessarily need to rhyme, and they don't need to be a specific word count. As long as you're conveying what you're feeling, and perhaps including relevant aspects of the deceased's life, then you're doing a good job. Writing death poems can not only help you heal emotionally, but it can help honor, memorialize, and celebrate the life of the person who has passed away.
---
Heartfelt Eulogies
Words that Last a Lifetime and Beyond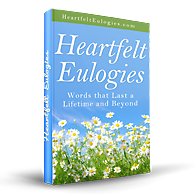 Easily create and deliver loving eulogy based on these proven, heart touching eulogy speech templates, examples of famous eulogies, funeral poems and quotes with bonus downloads.
Forget about spending hours trying to write a eulogy from scratch. Follow the templates provided in Heartfelt Eulogies e-Book and spend your time with the family who need you the most.
---