Why write a funeral poem
Writing anything is always a good, creative form of release and expression when we are going through anything that is inspirational or painful in life. Death stirs up many emotions in people, many of which are difficult to describe which is why people sometimes end up writing a funeral poem to express their grief and sadness towards the loss of a relative or loved one. If you find yourself needing to write a eulogy in a funeral and you're not good with words, writing a poem may be the best alternative.
How to write a funeral poem
Remember that when you are writing a funeral poem, you may end up making numerous revisions until you reach a poem that you are completely satisfied with. Having said that, grab a piece of paper and start writing down the words that closely resemble how you are feeling towards the situation. You may end up having negative thoughts, but by using a poem you may want to steer it in an optimistic direction that the one you have lost is now in a better place. String the words together to form beautiful phrases, they don't even have to rhyme. What's important is the poem best expresses how you feel about the particular death.
Sample verse of a funeral poem
Losing someone you love is never easy,
It creates a void in your life that may never become filled again
It feels as though there is this striking emptiness,
But there is also relief in knowing that (name) is in a better place
A paradise, with no pain, and no hurts that this world has
Where (name) can enjoy everlasting life with the Creator
When you realize the bigger picture about death
It helps me sleep better at night, knowing they are there, guiding and watching over me.
---
Heartfelt Eulogies
Words that Last a Lifetime and Beyond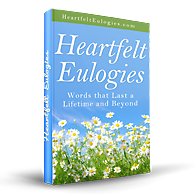 Easily create and deliver loving eulogy based on these proven, heart touching eulogy speech templates, examples of famous eulogies, funeral poems and quotes with bonus downloads.
Forget about spending hours trying to write a eulogy from scratch. Follow the templates provided in Heartfelt Eulogies e-Book and spend your time with the family who need you the most.
---