Funeral poetry for honoring grandmother
Grandmothers have a special place in everyone's life. They are there to spoil and take care of you when your parents aren't around, and provide wisdom of the ages that never get old even to modern day problems. They can be your mentor and your best friend, your inspiration, and your guardians when no one else is there. By using funeral poetry to honor your grandmother at her funeral, you can make your dedication to her more beautiful and intimate, and to show everyone what a special lady she truly was.
How to write funeral poetry for grandmother
Each grandmother has their own special and unique mannerisms that define the lady that she was. You can try to write these down, as well as the golden nuggets of advice she would offer you. You can also share any memories you had with her while you were growing up, how she would go out of her way to help you with anything that you needed. For example, if you both enjoyed cooking or baking, how did you value your time together in the kitchen? Did you enjoy helping her out around the house or the kitchen? Write these down and you can stitch them together as beautiful poetry dedicated to her.
Sample poem for grandmother
Years wiser, yet more beautiful than anyone I've ever known
You have always been there for us, and never made us feel alone
Warmth of your love, kindness of your heart, gentleness of your smile
We will always feel your presence even far out as miles
Everything you know, passed down to our generation
Ingrained onto our hearts, each loving tradition
With words as simple as these, you can already capture the essence of your grandmother. You may alter it and change it up, but remember to use the words and memories that remind you most of her.
---
Heartfelt Eulogies
Words that Last a Lifetime and Beyond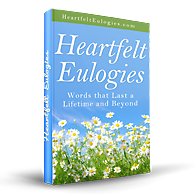 Easily create and deliver loving eulogy based on these proven, heart touching eulogy speech templates, examples of famous eulogies, funeral poems and quotes with bonus downloads.
Forget about spending hours trying to write a eulogy from scratch. Follow the templates provided in Heartfelt Eulogies e-Book and spend your time with the family who need you the most.
---