How to write a eulogy for grandmother
Grandmothers mean a lot to us. Ever since we were young we were told of how grandmothers serve as our second moms. Indeed, they are special people who have touched our lives in more ways than one. If you are to write a eulogy for grandmother, it's important that you write from the bottom of your heart. This means that you have to come up with a eulogy that's unforgettable, touching, and full of honesty. Your grandmother deserved the best speech you can think of after all she also sees you as a very special person in her life.
Basic writing tips
In order to ensure you write the best speech, you have to make an outline which will serve as your draft. Write down the possible things you want to talk about in your eulogy. Are you going to talk about your grandmother's inspiring attributes? Are you going to talk about your unforgettable experiences together? Once you already have a clear picture of what you want to say it's time you organize the details. You have to come up with a catchy intro like a song or a line from her favorite poem. For the body you go back to your notes and arrange them in a logical manner. You can end your eulogy with a saying or again a line from a poem or song.
Sample eulogy for grandmother
"My grandmother idolized Mother Teresa. And so I share with you this quote from her.

"Death is nothing else but going home to God, the bond of love will be unbroken for all eternity."

"Our grandmother has always been there for us through thick and thin. And today as we give our last farewell to her, we know that she's happy wherever she is right now. She was a very religious person and was very confident that when she dies she'll be going back to God. Indeed, we know that she is with her Creator now and that she's very happy. We love you Grandma and you'll always live in our hearts."
---
Heartfelt Eulogies
Words that Last a Lifetime and Beyond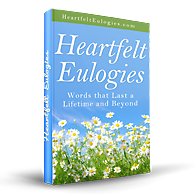 Easily create and deliver loving eulogy based on these proven, heart touching eulogy speech templates, examples of famous eulogies, funeral poems and quotes with bonus downloads.
Forget about spending hours trying to write a eulogy from scratch. Follow the templates provided in Heartfelt Eulogies e-Book and spend your time with the family who need you the most.
---