It is always a joy to have a lot of mothers at the same time- your biological mother and your grandmothers. Grandmothers are considered as your second parents. You owe them the life of your mother and your life as well. There are the foundation of respect and strength. If you are living with your grandmother, you would not have a hard time in writing a eulogy for her. You can fill her eulogy with the things that you remember about her- her odd ways and how she always sees to it that your mother or father is well take care of.
In writing a eulogy for grandmother, keep in mind the years that she has spend raising your father or mother and how she always showed love for her grandchildren. You can picture her as someone who does not get tired of loving and taking care of the people she loves even at her age. You can share how you take care of her as she wither down into her disease and how you witness her strength all throughout the years of her life. Most importantly, share the happy moments that you have with your grandmother and special advices and words of wisdom that she imparts you with.
Here is a short sample of a eulogy for grandmother that you can use a pattern in drafting your own funeral speech for your grandma.
"There are so many adjectives that I can use to describe my grandmother. But above all, I can say that my grandma is a person full of wisdom. Her life experience truly made her a pillar of strength- even at her age. There are many things that she shares with me. She always gives me golden thoughts of everyday that changed my life one day at a time. When I heard that she is diagnosed with cancer, I cried and prayed that her gift of speech would not be compromised…"
You can then begin sharing your experience and the feelings you had when you took care of your grandmother. End with a positive though or a word of wisdom that you learned from your grandma which the audience can take home with them.
---
Heartfelt Eulogies
Words that Last a Lifetime and Beyond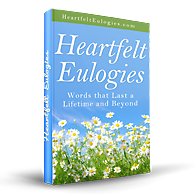 Easily create and deliver loving eulogy based on these proven, heart touching eulogy speech templates, examples of famous eulogies, funeral poems and quotes with bonus downloads.
Forget about spending hours trying to write a eulogy from scratch. Follow the templates provided in Heartfelt Eulogies e-Book and spend your time with the family who need you the most.
---