A friend is a brother or a sister that you never had. There may be moments in our lives when we feel that all we have left are our friends. Our friends are our confidants. Someone that is always with us through the good times and the bad times. We may not always agree on a lot of things but true friendship would find a way for people to accept each others differences and simply enjoy each others company. Writing a eulogy for a friend is something that can really bring tears to our eyes. You cannot imagine how much you would miss a person not until he is permanently gone.
In writing a eulogy for a friend, make it as personal as you can. Friends share the most number of memories together. Secrets are shared, points of views are exchanged. A friend is the one person that can know another person better than himself. Keep this in mind when you write a eulogy for your friend. Show the people who your friend really is-someone who is understanding, stubborn, funny or a happy go lucky. Your eulogy should be true and genuine for it to be truly heartwarming. This is your chance to show the world a part of your friend that may often times be misunderstood, taken for granted or missed all together.
Here's a sample eulogy for a friend that can help you write your own:
"I can still remember the day that I met Mitch. She offered me a seat in the cafeteria way back when I was a new student at Shendi High. She has a burger in her hand. Since then, she began offering me more than a seat during lunch. She would share how she comes up with this cool idea for Science project, how she hates our Math teacher, how she stalks her high school crush- she can really be a talker…"
"To Mitch, I would always remember you as someone with her own will and someone who is not afraid to follow her heart. She is someone who is full of love- the reason why she has a lot of love to give. I would always remember you as my pal who loves to eat burgers but won't hesitate to share the other half with me. I love and you would always be in my heart."
Click here for more tips on writing a eulogy on EulogySpeech.net.
---
Heartfelt Eulogies
Words that Last a Lifetime and Beyond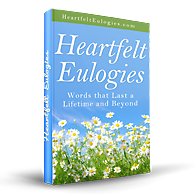 Easily create and deliver loving eulogy based on these proven, heart touching eulogy speech templates, examples of famous eulogies, funeral poems and quotes with bonus downloads.
Forget about spending hours trying to write a eulogy from scratch. Follow the templates provided in Heartfelt Eulogies e-Book and spend your time with the family who need you the most.
---