A mother is the light in anyone's home. She carried you in her womb for nine months and her hands took care of you as a child. A mother is the hardest person that a person can ever to let go of. But we have to face the reality that there would be a time when we would permanently be away from the embrace of a mother when her death comes.
In writing a eulogy for mother, it is important that you share the fond memories that you had with your mom. A mother can be a lot of persons- she can be a teacher, a best friend, a confidant- indeed, a very special that has a special place in your heart. It would also be nice to portray your mom as someone who would sacrifice her own personal wants to give her children and her family the best in this world.
In writing your eulogy for mother, keep in mind how she is to you. This can seem difficult if you are still coming to terms with her death, making funeral arrangements and organizing insurance claims. It is a good idea to set some time aside to sit down and focus on exactly what you want to say. Write down your experiences and how she taught you to see things in a different light. Tell the audience about the legacy she left of you in your eulogy. To give you a little background on how to write a funeral speech for your mom, you can check out sample eulogies for mothers online.
Here is a short sample eulogy for mother:
"My mom is more than a mother to me. She is my first teacher and the most practical person I ever met. We may have some misunderstanding and disagreements but now I realize that the things she told me not to do are the things that I should have not done in my life. As they say "mothers know best" and I come to realize that fact today…."
You can end your eulogy with something like this:
"We would always remember your love, mom. As a mother myself, you are my greatest role model. I would love my children the way you did- full of affection and understanding. Until we meet again, mom, I know that on that day, you would be proud of who I turned out to be because of the memories and teachings that you left us with…"
For more eulogy samples visit EulogySpeech.net
---
Heartfelt Eulogies
Words that Last a Lifetime and Beyond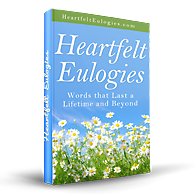 Easily create and deliver loving eulogy based on these proven, heart touching eulogy speech templates, examples of famous eulogies, funeral poems and quotes with bonus downloads.
Forget about spending hours trying to write a eulogy from scratch. Follow the templates provided in Heartfelt Eulogies e-Book and spend your time with the family who need you the most.
---