A father is the symbol of strength. He is the provider of the family and ensures that we get the necessities and luxuries of life. For some people, a father figure is someone that has the iron hands at home and is responsible for implementing discipline. When the time comes that you father meets his death and you have to write a eulogy for your dad, it would be best to remember your father on how he has brought you up and share to the audience memorable moments that you had with your father.
A father can also mean fun. You can write a eulogy and talk about happy experiences that you shared with your father. The fishing vacations, skiing lessons, and travel escapades are something that you can impart with the audience. Portray your father as how you wanted him to be remembered. To know how to write a custom eulogy you can take a look at sample eulogies for father that you can find on the Internet.
To get you started, here is a short sample eulogy for dads:
"My father would always tell me (write something that you remember your dad always say). I'm not sure what he meant by it at that time but I soon realized the truth in his words by the time that I get to be a dad myself. Looking back at my childhood, my father showed me the sweetest love a son can ever experience. I remember the time when we spent the holidays in (start sharing your experience here)…"
You can end eulogy with something similar to this:
"My dad is a pillar of strength. He shares his wisdom to me and I intend to live his legacy until the time that we would see each other again. To my dad, you have always been and will always be my inspiration and the inspiration of my children. I know that you are happy with the hands of the greatest Father of all. Goodbye and lots of love."
To know how to write a custom eulogy you can take a look at sample eulogies for father at EulogySpeech.net
---
Heartfelt Eulogies
Words that Last a Lifetime and Beyond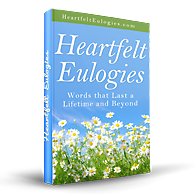 Easily create and deliver loving eulogy based on these proven, heart touching eulogy speech templates, examples of famous eulogies, funeral poems and quotes with bonus downloads.
Forget about spending hours trying to write a eulogy from scratch. Follow the templates provided in Heartfelt Eulogies e-Book and spend your time with the family who need you the most.
---