Brother Eulogy Speech
"Nobody understands you like a brother – at least that's how it was in my family. Growing up, my older brother Joey was always there for me. Whenever I needed to get picked up from school, he was there. Whenever I was having boy problems, he was there. It's truly sad that he lost his life so early.
Joey was a "wild" stallion. He had a knack of always finding adventures wherever he went. When he was 20, he ventured off into the woods with nothing more than the shirt on his back – he stayed out the entire night! But in spite of his wild personality, Joey was a kind-hearted and loveable brother.
Anyone who knew Joey knew that he was a very giving person. If a friend needed money for something, he would give it. If someone needed their car fixed, he would help. It's this kind of selflessness that you can't find much in the world anymore. There's no doubt that the world lost somebody very special in Joey.
I stand up here today not to mourn, but to instead celebrate my brother's life. As most of you know, Joey was attending medical school when he experienced his tragic car accident. He wanted to become a doctor. In the back of my mind, I always knew that he would thrive in the medical industry, mainly because he had such a gifted mind.
Unfortunately, his plan was cut short, and this was an incident that nobody could have predicted. My two sisters and I miss him very much, as do our parents, grandparents, and friends. We understand that he's in a better place, but it gets hard to think that he won't be there to wake me up in the mornings with freshly made blueberry pancakes.
I want to thank everyone who was able to make it out tonight. I'm sure that if Joey were here today, he'd appreciate it very much. As one final piece of advice, live your life to the fullest, because you never know when an unexpected accident like Joey's is going to take it all away. Thank you all."
---
Heartfelt Eulogies
Words that Last a Lifetime and Beyond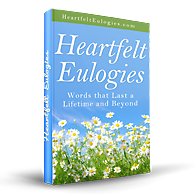 Easily create and deliver loving eulogy based on these proven, heart touching eulogy speech templates, examples of famous eulogies, funeral poems and quotes with bonus downloads.
Forget about spending hours trying to write a eulogy from scratch. Follow the templates provided in Heartfelt Eulogies e-Book and spend your time with the family who need you the most.
---