Pronounced "Yule-ah-gee", a eulogy, in its most basic form, is a speech that is written to help remember that positive qualities of someone who has passed away. Speeches like these are usually given during a funeral or memorial ceremony by a relative or close friend of the person who has died. In some cases, it can even be given by the religious leader.
Don't Be Stressed Out Over Giving a Eulogy!
Try to imagine it as a simple conversation that you're sharing with friends and family members about the life of the person who has passed away. Remember, the memorial ceremony is usually only going to include people who are related to or who know the deceased in some way, so they're eager to hear anything you have to say that will honor the person who has died.
Most people are afraid of public speaking, but in this case, you aren't really speaking to an "audience" – you're speaking to a group of people who aren't expecting you to give a flawless speech. There's no "right away" to write a eulogy speech, but below are some tips that you should keep in mind when putting one together.
Qualities of a Well-Written Eulogy
Since most people have no clue about what a quality eulogy is supposed to sound like, let's help you create one the way you want it. Here are some things that you can add into your own memorial speech:
A quick overview of the person's life history
Important achievements that the person made in their life
Details about their hobbies, work, friends, and family
Your favorite memories of that person
Eulogies, on average, tend to be between three and five minutes long. However, if you feel that you have a lot to say, you can take a little longer than this or shorter depending on your preferences.
For instance, for a father who has passed away, each of his children can spend a minute or two giving a small speech about their favorite memories with him. By following these simple guidelines, writing a eulogy will be much easier.
---
Heartfelt Eulogies
Words that Last a Lifetime and Beyond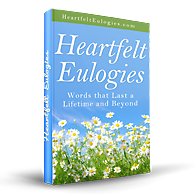 Easily create and deliver loving eulogy based on these proven, heart touching eulogy speech templates, examples of famous eulogies, funeral poems and quotes with bonus downloads.
Forget about spending hours trying to write a eulogy from scratch. Follow the templates provided in Heartfelt Eulogies e-Book and spend your time with the family who need you the most.
---