Death is a part of life that no one wants to have to face. It is a time of great grief and can be difficult to accept. The loss of a loved one can make it hard to express how much you loved them. During this time many people find it difficult to find the right words that would describe the person in the proper way. Writing a eulogy for lost loved one can be made even more difficult when you do not know what to say. For this reason, here are a few short samples of famous eulogies that have been given in years past.
Here is a sample of the eulogy written by George W. Bush to Gerald Ford.
"We are here today to say goodbye to a great man. Gerald Ford was born and reared in the American heartland. He belonged to a generation that measured men by their honesty and their courage. He grew to manhood under the roof of a loving mother and father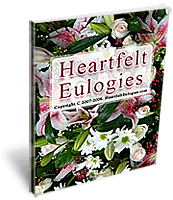 This is a sample of the eulogy that Bindi Irwin gave in honor of her father Steve Irwin.
"My Daddy was my hero – he was always there for me when I needed him. He listened to me and taught me so many things…"
This eulogy sample was give by Charles Spencer to his sister Princess Diana.
"We are all united not only in our desire to pay our respects to Diana but rather in our need to do so…Today is our chance to say thank you for the way you brightened our lives, even though God granted you but half a life. We will all feel cheated always that you were taken from us so young and yet we must learn to be grateful that you came along at all."
For more famous eulogies visit EulogySpeech.net
---
Heartfelt Eulogies
Words that Last a Lifetime and Beyond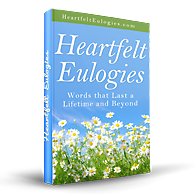 Easily create and deliver loving eulogy based on these proven, heart touching eulogy speech templates, examples of famous eulogies, funeral poems and quotes with bonus downloads.
Forget about spending hours trying to write a eulogy from scratch. Follow the templates provided in Heartfelt Eulogies e-Book and spend your time with the family who need you the most.
---