There are no words that would describe the pain of a child from losing a mother. Moms are always there for their kids through think and thin. Being inside a mother's womb for nine months, they are more attached to their children than anyone else in the world. It can really be a time of grief and sadness if you are to deliver a funeral speech for someone close to your heart. But you can actually use these emotions in a positive way and create a funeral poem for your mom.
Writing a funeral poem is not hard as it sounds, here are some writing tips:
• Recall the experiences and memories that you spend with your mom. Pick something that is special and memorable to you and you can write this down as a verse in your funeral poem.
• Think about your mom as a mother. You can talk about her care and love when writing down a poem. Make sure that you end up with a positive write up and never a negative one.
• You can choose the mood for your poem. You can make a funny poem or a light hearted one. You can also write something that is touching and emotional. It basically depends on what you want.
• You can log online and check out funeral poem samples so you can have an idea of what to come up with. Your poem does not necessarily have to follow strict guidelines on writing poems. Just make something that it is personal and full of love.
• Try to read your poem out loud to make sure it sounds ok. Edit if necessary.
Sample funeral verse for mom
She carried me in her arms
And was with me during trying times
She was a woman of care and love
But know we have to part
The values she left behind
Would always be in my mind
And she… would always be in my heart
---
Heartfelt Eulogies
Words that Last a Lifetime and Beyond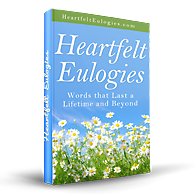 Easily create and deliver loving eulogy based on these proven, heart touching eulogy speech templates, examples of famous eulogies, funeral poems and quotes with bonus downloads.
Forget about spending hours trying to write a eulogy from scratch. Follow the templates provided in Heartfelt Eulogies e-Book and spend your time with the family who need you the most.
---