During trying times, like when a person close to your heart had died, you are looking for someone that you can lean on as a pillar of strength. No one can give you that strength except for a higher being. Depending on your religion, this someone can be Jesus if you are a Catholic or Allah if you are a Muslim. Whatever you religion is, you can find inspirational words of wisdom that can strengthen you in the bible.
Find time to read bible scriptures. If you were tasked to say a eulogy for the deceased person, you can also use bible scriptures for funeral speeches. This can give your audience a lift of hope when you find the right bible verse to say. There are lots of bible scriptures that can give you inspiration and positive outlook in times of grief and sadness.
The Book of Psalm has a great selection of bible verses that can be used during funerals. It has words of hope to the people that would be left behind. It also contains sayings on how God is all merciful and loving that He would not allow his children to grief. He always has a plan for all of us and it would be realized in time.
During the funeral, most religion would read bible scriptures. This is part of their ceremony. Catholics would often have a bible reading during the Holy Eucharist which is often part of the event.
Sample bible scriptures for funerals
1 Thessalonians 4.13-end
We do not want you to be uninformed, brothers and sisters, about those who have died, so that you may not grieve as others do who have no hope. For since we believe that Jesus died and rose again, even so, through Jesus, God will bring with him those who have died. For this we declare to you by the word of the Lord, that we who are alive, who are left until the coming of the Lord, will by no means precede those who have died. For the Lord himself, with a cry of command, with the archangel's call and with the sound of God's trumpet, will descend from heaven, and the dead in Christ will rise first. Then we who are alive, who are left, will be caught up in the clouds together with them to meet the Lord in the air; and so we will be with the Lord for ever. Therefore encourage one another with these words.
---
Heartfelt Eulogies
Words that Last a Lifetime and Beyond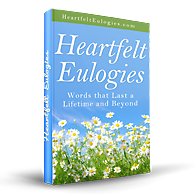 Easily create and deliver loving eulogy based on these proven, heart touching eulogy speech templates, examples of famous eulogies, funeral poems and quotes with bonus downloads.
Forget about spending hours trying to write a eulogy from scratch. Follow the templates provided in Heartfelt Eulogies e-Book and spend your time with the family who need you the most.
---