A eulogy poem is a special form of prose written to offer comfort to the bereaved. Since death is a certain fact that in most cases would cause grief and bereavement to the deceased's family, the existence and creation of eulogies is also certain. Because of this fact, eulogy poem writing has found its niche as a specialty subject available in the World Wide Web through various bereavement focused sites.
Writing eulogy poems usually do not follow a certain rigid format but a few sensible tips would be of great help. Since a death is always associated with a painful loss, funeral poems should be in an uplifting and inspirational tone. As much as the poem is written as a tribute to the deceased, it should also be considered as a reassurance to the living.
A poem attributed to Mary E. Frye entitled "Do Not Stand at My Grave and Weep", presents a poignant plea of reassurance from the departed for the living not to weep for the dead did not die but has become part of the world as fragments of light, wind and rain. This type of short poem exemplifies the theme of reassurance to the living that death is not the cessation of life but a continuation.
"An Irish Funeral Prayer," derived from a sermon delivered in 1910 by Henry Scott Holland during the funeral of King Edward VII at Westminster, has been used for years in Irish and Christian funeral services. In the same tone as the poem by Frye, this poem also speaks of reassurance when part of it says "I am but waiting for you, for an interval, somewhere very near, just around the corner". A way of saying that there lies a promise of a reunion of the dead and the living in another place and another time.
Free resources and free sample eulogy poems abound on the World Wide Web which can be used as inspiration or as templates for your very own. A poem because it comes from the heart, is a fitting tribute to the dead and the living to be remembered in time. Eulogy poems have a global message that crosses cultural boundaries. A poem you write for someone you know of might just bring the same reassuring message to other families who suffer through death. If you are gifted with the blessing and talent of writing poetry for the dead, share it.
---
Heartfelt Eulogies
Words that Last a Lifetime and Beyond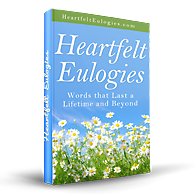 Easily create and deliver loving eulogy based on these proven, heart touching eulogy speech templates, examples of famous eulogies, funeral poems and quotes with bonus downloads.
Forget about spending hours trying to write a eulogy from scratch. Follow the templates provided in Heartfelt Eulogies e-Book and spend your time with the family who need you the most.
---